So, Day #3 started out in Albuquerque, New Mexico. Our goal for the day was to drive from Albuquerque, NM to Weatherford, OK. This is about a 7 hour stretch of absolutely. nothing. That stretch through Texas is the most flat, and barren stretch of land I have ever seen. Flat as far as the eye can see with no trees, plants, animals, houses, hills or anything of the like. I tried to look up things to see or do along the route and there was just about nothing. There was Cadillac Ranch, a crooked water tower, and the largest Cross in the U.S. And that's about it! So...I decided...I could at least be grateful that Topher's military assignment wasn't going to be filled out in Amarillo! Not that it was that bad, but...what am I saying, it was! Topher didn't want me to say that. He wants me to positive. And I am! I'm grateful we're not moving to Amarillo because I'm POSITIVE I'll like Charleston better. :) There. Me=Positive.
We did find online some info about Santa Rosa, New Mexico that looked nice. There was supposed to be an area with natural lakes and such that was supposed to be really pretty. There was supposed to be a swimming hole, and several parks and we had decided we would have lunch there.
Hm....not sure how swimming or anything would work...when theres, no water though...




This was Park Lake. It looks like it could have been fun...if when you came off the slide there was water to catch you. Or if when you dove off the diving board you weren't going to hit the ground with your head. :) Yeah, to say the least, the water level was pretty darn low.
So, we decided we would check out The Blue Hole. This was supposed to be a "must see" in Santa Rosa...but all it was was a very pretty little spot of fresh water that was 65 degrees and 80 ft. deep. Not so sure we would want to swim in there either. :) It is supposed to be a really neat place to go Scuba Diving, and it was indeed really quite beautiful. It was very clear and Grace loved the fish that were swimming in it.


After wading in the cold, teal water, we headed to a nearby grocery store where we bought things to make PB&J and drove about 10 min. outside of town to the Santa Rosa Lake State Park. It was such beautiful weather and there was a nice cool breeze. We ate lunch and Grace & Topher played around the camp table kicking Toph's soccer ball around, throwing rocks and yelling at spiders.
We Utahns are classy wouldn't you say? She walked around like this for, oh, let's see...ALL DAY! Everytime she walked about 4 steps her pants would come down and usually end up around her ankles. At least if I saw it happening that's what the outcome was. HA! If Topher saw, he actually helped her instead of just sitting and laughing. I know, I know, I'm a great mommy.
A funny story from lunch came up after we had finished eating. Topher came and sat by me on the bench and was hugging me, and yes, possibly giving me a couple of kisses...Grace walked up and said "Daddy! Daddy! I'm gonna go hide! And you come find me, ok? I'm gonna go hide...right, over THERE! (she then proceeded to point to the exact spot she was going to go hide) Daddy! You come find me, ok?! As soon as you done kissing eachover, come find me!"
We laughed so hard! What a patient girl to let us finish kissing first, before asking her Daddy to come play with her. And not only that, but how helpful of her to tell us where she'd be hiding as well!
After lunch we continued on towards Amarillo, TX. A place called Cadillac Ranch was about the only thing that came up as "things to see" between New Mexico & Oklahoma City. Surprisingly, it was actually pretty fun! I guess that as a piece of American Art a few guys thought that Cadillacs, stuck half way into the ground, would make some interesting modern art. They used to be new, pretty, and recognizable as different models of the classic Cadillac. But, over the years, they have been stripped of seats, wheels, windows, and every scrap of body, most likely for souvenirs. They are no longer recognizable, not just for the lack of car left, but also because it has become tradition for people to spray paint things on the cars. One forum I read said that it was a must to leave your mark on the cars, but to take a picture quick, because before you know it, it'll be covered up by someone else's tag!
Well, we left our mark. :) There were spray paint cans everywhere, and it just seemed like that's what you were supposed to do. So, Topher and I became rebels, and even taught Grace how to do it too!! Not very rebellious when there's a sign that condones it though, huh? oh well!
Cadillac Ranch- You could smell the fumes of spray paint from where we parked along the freeway's frontage road.
Grace called them "funny caws." And thought it was very silly that they were in the ground. But even more silly, she thought, was that there were no seats. She got a kick out of that, and kept asking where they had gone.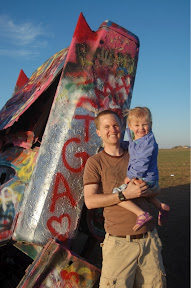 The pair of happy taggers. :) TGA (Topher, Grace Alysia) Oh, and the heart of course. Now we left our mark! I wonder how long it will actually stay there before its covered again. There were literally dozens of spray paint cans all over the place!
We were there right before sunset and It was really beautiful.
After Cadillac Ranch we got some dinner at Dairy Queen and continued our drive to Weatherford, OK. We got there pretty late again and all fell asleep pretty quickly.
Pretty good day over all though, and we were happy to be done with the long stretch of barren ground, and on our way to the greener pastures of Oklahoma.
Miles Today: 473
Total Mileage: 974
- Posted using BlogPress from my iPad