Day #2 started with us in Moab. We debated going to Arches, (I thought it would be neat...but Toph said he'd seen it plenty of times. psh!) but decided to just head to Mesa Verde instead. Along the way we stopped at little sights along historic Route 66, like "Hole n the Rock".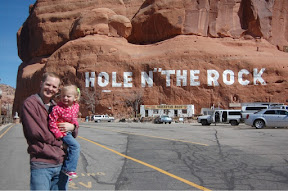 We also stopped at an overlook for the Colorado River right past Arches National Park. The drive was all right, not much to report. Gracey was happy, then sad, then angry, then tired and quiet. Dealing with her roller coaster of emotions isn't the funnest thing when we are stuck in a confined space. But, oh well!
The drive to Mesa Verde was ok. Very windy and long to get to the villages that is for sure. All of them were closed for winter except Spruce Tree House, which Topher says is one of his favorites anyways. Grace LOVED it, and that might even be an understatement. She called it her "castle in the wocks". She was the Princess and she wanted to go inside the underground Kivas over and over again. She loved climbing down and then making up stories for what was down there. The air shaft in her opinion was actually a cage for animals, and it was not in her mind a religious place, as theorized, but a room, with a bed, and a wall for her babies to sleep on, and then of course the animal cage. Silly girl.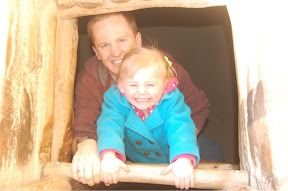 After Mesa Verde, we drove to Farmington New Mexico and had dinner, and then ended our day in Albuquerque, New Mexico. As it turns out in Albuquerque they hold the country's largest Balloon Festival. Our hotel was actually called the Holiday Inn Express--Balloon Festival. I wish we had been there for that! How cool to see the sky all covered in hot air balloons!
We made it to our hotel around 10 p.m. however the pool was open until 11 so we went down to the pool and let Grace play for about 35-40 minutes. I was tired, so I stayed in the hot tub. Topher got landed with Grace in the cold pool. :) Grace's 45 minutes was ENTIRELY passed running between the hot tub and the pool, back and forth and back again, jumping into the hot tub with me, then immediately climbing out and jumping into the pool to Topher. We had a good night and a good day at Mesa Verde. :)
Our total mileage thus far on the trip: 599 miles